Making Nickel (II) chloride hexahydrate
2009-03-09 22:58 by Ian
Here I will detail a process for making technical grade nickel (II) chloride hexahydrate from household chemicals.
You will need: (at minimum)
US $0.05 coins (a source of nickel metal)
Hydrochloric acid (from a pool-supply or hardware store)
Two heat-resistant glass containers (I used mason jars)
Filter paper
Optionally Electric Drill, file, vice
Theory:
A US nickel is 25% nickel metal and 75% copper. At a mass of 5g, each US nickel contains 1.25g of nickel metal. Hydrochloric acid doesn't attack copper under normal circumstances. We can therefore use HCl to leech nickel from the alloy. This will cause nickel to enter its preferred oxidation state of 2+ and bind to the free chlorine ions in solution, liberating hydrogen gas in the process…
2HCl + Ni + 6H2O -> NiCl2•6H2O + H2
Salts of nickel, like many other metal's salts, have a strong affinity for polar ligands. In this case, that ligand is water. But it may also be ammonia, or an alcohol. Immediately after the formation of the salt, water molecules will collect around the metal ion as the chlorine atoms pull electrons away from it, thereby inducing a partial positive charge on the nickel.
The result will be a green salt that should look like this: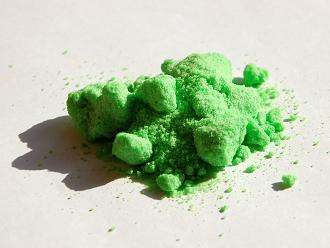 Procedure
Use the drill, file, whatever to mar the coins or (ideally) make turnings from them. The purpose of this step is to increase the surface area of the metal that is exposed to the acid. This will greatly speed the reaction and increase the yield.
Add about 100mL of 29% HCl to the well-cleaned glass for every $0.30 you intend to leech. Do this outdoors or under a fume hood! HCl at this concentration will fume, and it stands a good chance of injuring anything alive that happens to be nearby.
Add the brutalized currency to the acid and let sit for a week or so.
The solution should start turning a bright green, and the color will darken significantly as it becomes saturated with salt.
Prepare another clean jar and use a rubber band to fasten a few coffee filters over the opening. Carefully pour the solution through the filter paper. The metal left behind should have a distinct copper appearance by now.
Evaporate the aqueous component of the solution. This will boil any remaining acid, so don't do it indoors. I used a heat gun directed toward the surface of the solution.
After the solution is dry, let it sit again in a moist atmosphere. The dried salt will absorb water from the air and gradually turn brilliant green like the image above.
If you are so inclined, now would be the time to calculate purity and yield. But I don't have a scale that is adequate for this task.
Some pictures:
Here is a closeup of the nickels. You can see where I've drilled the nickels, and all the metal shavings that resulted. This reaction has been running for about four days. The color representation is accurate.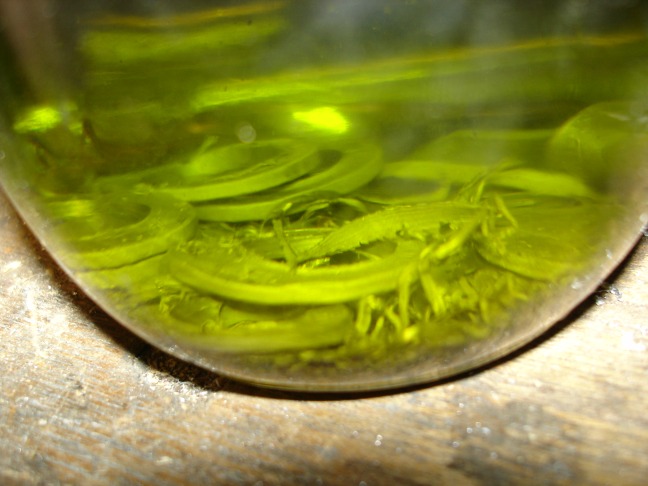 Most of the large turnings have fallen apart into smaller pieces as metal is leeched from them. Here is a view of the most granular material left in the jar. If you look closely, you can just make out the distinctly copper hue as the nickel is leeched, leaving the copper component of the alloy in place.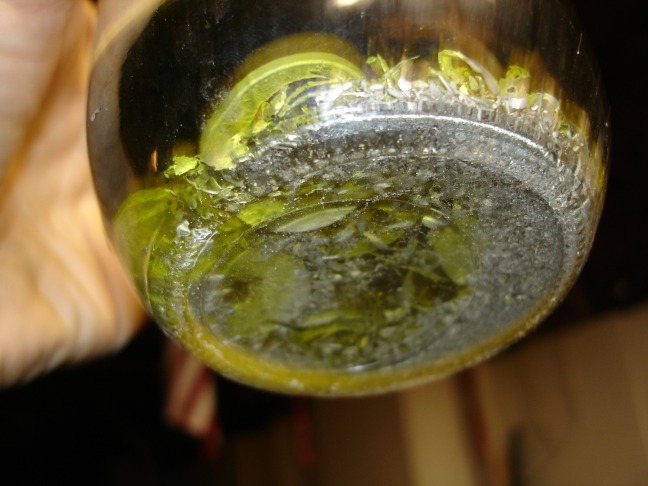 Applications:
Now that you have your fancy salt, put a small sample of it in a flame and observe the striking color.
You can now use this salt to do various things. You can pass a current through its aqueous solution and extract the high-purity nickel metal. It is also a weak Lewis acid. Without knowing the purity, it would be ill-suited for a chemical reagent. But knowing the purity isn't too difficult. Maybe I'll go into it later.
What did I do with it? I dissolved it in anhydrous denatured alcohol and threw it in a spray bottle so I could blow bright blue fireballs.
This is almost certainly not safe. But isn't that part of what makes it so awesome?
Previous: Where I work
Next: Q&A About Mercury